Eso Eduardo y Cyrena for making it to the finals in Bs As!
Suerte!
ABC News: American Couple Tangos to World Finals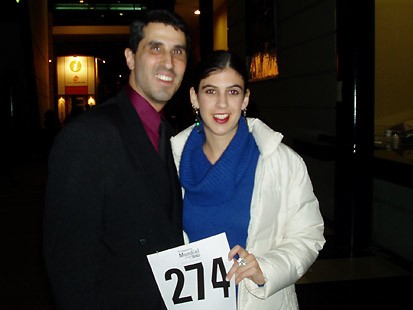 Eduardo Goitia, 43, and Cyrena Drusine, 25, are unlikely finalists at the World Tango Championships being held in Buenos Aires.
Eduardo was born in the Bronx in a family of immigrants from Puerto Rico. He is an architect at the top New York design firm Mancini, Duffy and lives in midtown Manhattan. Cyrena is from a Russian émigré family that ended up in Manhattan. She is an NYU graduate student studying performance arts from an anthropological perspective.
Perhaps the most intriguing fact about this couple is that they have only known each other since this past April when they met at a milonga, or tango dance hall, in Buenos Aires.
In these contests, partner synchronization is considered one of the most important facets of the judging process.
Speaking about the night they met, Eduardo told ABC News, "We danced believing each that the other was Argentine. Not until we sat down and chatted did we realize we were two New Yorkers. So we exchanged phone numbers and started dancing as a couple in New York in May."
The rest is history.
In July the couple won the United States championships in New York, which carries among its prizes an invitation to the annual event in Buenos Aires, the birthplace of this exquisite dance.
The World Championships brings together close to 500 couples from 154 cities to compete in the main event during an 11-day spectacle replete with dance shows, tango orchestra performances, specialized classes, seminars and other happenings revolving around the tango.
"It's a thrill to dance in this competition with all the historical significance of Buenos Aires," said Eduardo, in a short break while waiting for the semi-finals to begin. Eduardo and Cyrena are vying for top honors in ballroom, one of the two categories of tango dance style at the championship (the other category is stage).
Stage is the more stylized and choreographed version, while the ballroom category is the more traditional, neighborhood-style tango that developed in Buenos Aires in the early part of the 20th century.

"We actually danced in both categories at the New York festival. We came in first in ballroom and third in stage. But here we decided to concentrate on ballroom dancing. It's more traditional, especially here in Argentina."
In the ballroom semi-finals, the contestants go in groups of 10 couples and are asked to dance in counter-clockwise circles while a panel of five judges rates each of the couples. Three recorded tango tunes are played for each grouping of 10 couples. The music is not prearranged, so the couples cannot plan their dancing according to any specific composition.
The judges look at factors including how the couple first walks out onto the dance floor, their general appearance and ambience, their elasticity, their rhythm and dancing in harmony with the music, and even to how they relate to each other.
A crowd of about 3,000 people also attended the semi-finals, with rooting sections for local participants as well as the many Colombian couples vying for honors.
The New Yorkers danced with energy and flair, and that combination of rigidity and elasticity that marks tango. They stood out in their group and were selected one of three dozen finalists for the competition that ends on Sunday night.
"We're excited but also confident," said a tired Eduardo on Friday night after the finalists were announced.